RxChain® is a turnkey DSCSA Serialization Solution for manufacturers, distributors, repackagers, and dispensers.
It meets the requirement of Track-n-Trace and serialization with robust serial warehouse capabilities and native APIs for ERP integration. RxChain® Cloud Solution, coupled with RxChain® Mobile Apps, enable powerful value-added operations to error proofing customers' supply chain and track meaningful supply chain metrics. RxChain® adheres to the industry standards including GS1 and Healthcare Distribution Alliance (HDA), as well as all business requirements from the wholesale distributors.
RXCHAIN® SOLUTION FEATURES AND CAPABILITIES
The RxChain® Solution consists of RxChain® Cloud and RxChain® Mobile. It tracks the entire serial number life cycle from integration to dispensing. It integrates with various business systems including ERP, WMS, and EPCIS systems. The Cloud solution is hosted in a FDA qualified environment and the Mobile solution is compatible with Android, iOS, and Windows Mobile OS.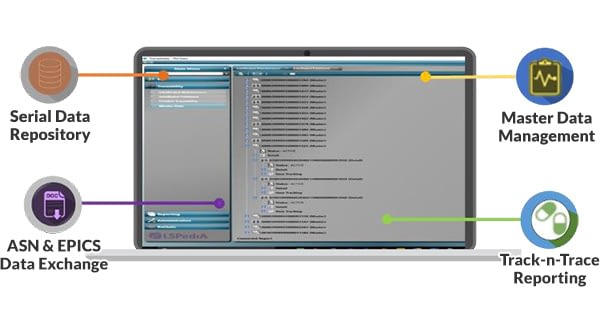 RxChain® integrates and exchanges data with packaging lines, CMOs, Suppliers, 3PLs, and wholesale distributors in a flexible and scale-able manner.
Rx Master Data
Serial Data Repository
Track and Trace reporting with 3Ts / ASN
Serialization EPCIS 1.0, 1.1, 1.2
FDA Audit Reports
Automated and manual Serial Request
Shipment Notification in ASN and EPCIS
Error notification and in-app re-process
Supply Chain dashboard with vital KPIs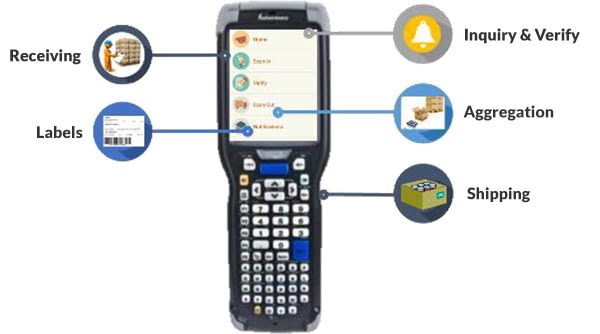 Supply chain is the single most important factor to delivery Rx products to customers and patients. RxChain® mobile solution offers robust warehouse capabilities for inventory transactions and supply chain visibility. Integrated with scanners, cameras, and smart devices, RxChain® captures serialized event data throughout the warehouse operations.
Receiving and QA receipt accuracy
Packing and shipping serialized and non-serialized Rx
Inquiry, Verify, and Warehouse Reconciliation
Packaging aggregation and shipment aggregation
Returns and dispensing
APIs for ERP and WMW integration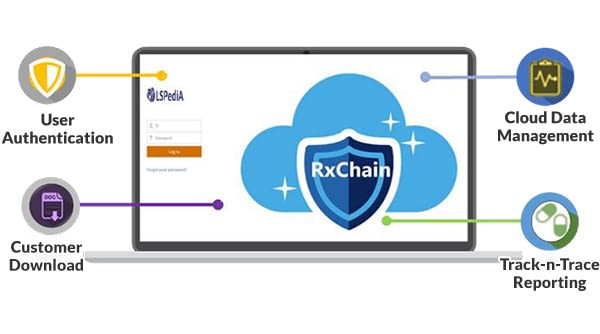 RxChain® Portal is an effective, secure, and easy way for users outside of the firewall to retrieve their relevant DSCSA serialization data. RxChain® Portal has the following capabilities:
Admin user and user roles
User authentication
Data encryption
Access to 3T track and trace report
Access to EPCIS data
BENEFITS OF THE RXCHAIN® SOLUTION
It's crucial to invest in a comprehensive solution that is integrated, scalable, configurable, and interoperable with trading partners. RxChain® meets those needs and provides additional benefits, helping you:
Lower overall serialization spending

Meet DSCSA Serialization compliance requirement
Deploy value added supply chain operation with serialization
Access to supply chain data and supply chain metrics for business decisions
We have received multiple submissions from you. Thank you for your interest and we'll get back to you ASAP.